Three figures involved in shows with LGBTQ+ themes discuss the significance and creativity of the likes of I Kissed A Boy and Heartstopper
LGBTQ+ representation appears to be having a moment on British television, with a growing list of shows making an impact. From reality shows I Kissed A Boy and Drag Race, teen drama Heartstopper and comedy Big Boys to thought-provoking documentaries such as Tom Daley: Illegal to Be Me and George Michael: Outed, every genre is playing a part.
Broadcast brought together Twofour's David Brindley, Storyville's Emma Hindley and See-Saw executive producer Patrick Walters to discuss the cultural shift, the importance of representation at all levels of production and how to keep the momentum going.
You have all used LGBTQ+ crews in your programmes. Why was that important to you?
DAVID BRINDLEY To create what felt like a safe space for the men taking part in [BBC3's] I Kissed A Boy. It felt really important that we were constantly sense-checking with gay members of the crew that our decisions were right and the show was authentic.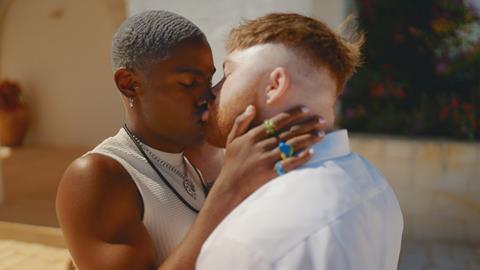 The big thing was having the cast feel they were understood, but also that they could have any conversation they wanted, because the people around them would listen and be able to input. And that leads to different content: conversations that you haven't heard on television before were given the space to exist.
Those topics range from graphic content about gay sex to moving, difficult conversations about acceptance from parents. All of that means you build a rich tapestry of what it's like to grow up as a gay man.
We were determined to reflect the broadest possible spectrum of what it is like to be gay in Britain today. So we employed a wide range of people who had their own experience of that.
"My desire for better representation is partly down to the start I had"
Emma Hindley
EMMA HINDLEY Representative crewing, casting and production is in my DNA. I've always tried to employ people who are from the same sort of place and had diversity, in its broadest sense, at the forefront of my mind – probably because in the mid 1990s, we were so fed up with straight men telling gay and lesbian stories.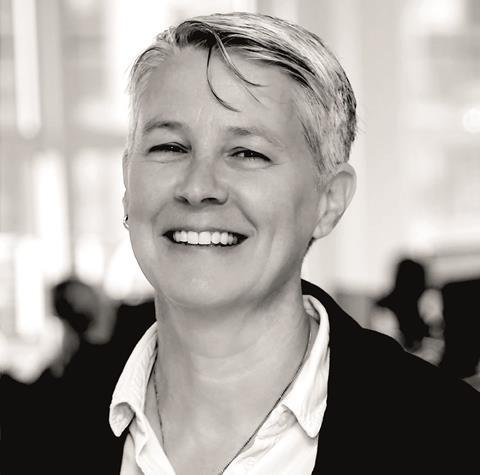 My desire for better representation is partly down to the start I had. When I was a film editor, a researcher friend heard about Channel 4's new Independent Film & Video department. It had a lesbian commissioner, Caroline Spry, who wanted to commission lesbian and gay film-makers.
Spry gave us some development money and asked us to make our first film – a history of lesbian and gay nightlife in London from the 1930s to the 1970s. I went on to make a lot of films for her. She helped so many people get into the industry.
PATRICK WALTERS We had a very strong sense that Heartstopper would be a piece of representation for a younger queer audience that hadn't been there before. When we were pitching it, everyone said, "this show doesn't exist" and we were like, "yes, that's why it needs to exist".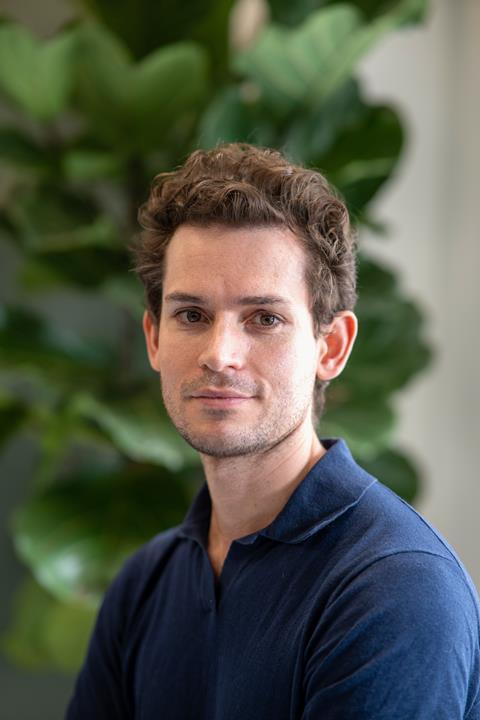 By the time we were on set, we had scripts that were about two 15-yearold boys kissing each other and feeling no shame, just joy and excitement. There was a lesbian couple who were part of the story and a young trans girl of colour who was moving to a new school. Everyone who was making it was queer and up for doing it.
We wanted to represent a young queer audience by casting young actors, rather than 20-year-olds playing teenagers. There was duty of care to those actors because, as a producer, you'd never just sit down with a 16-year-old and ask "tell me about sexuality" – that is completely inappropriate. But what we were doing was saying, "this is an incredibly safe space in the service of a story that is inherently queer".
Our cast came into it excited by that, and from our director to our HoDs, the first conversation was: "Isn't this amazing? We're making this big gay show."
What sort of change have you noticed in the past 10 to 15 years working in this industry?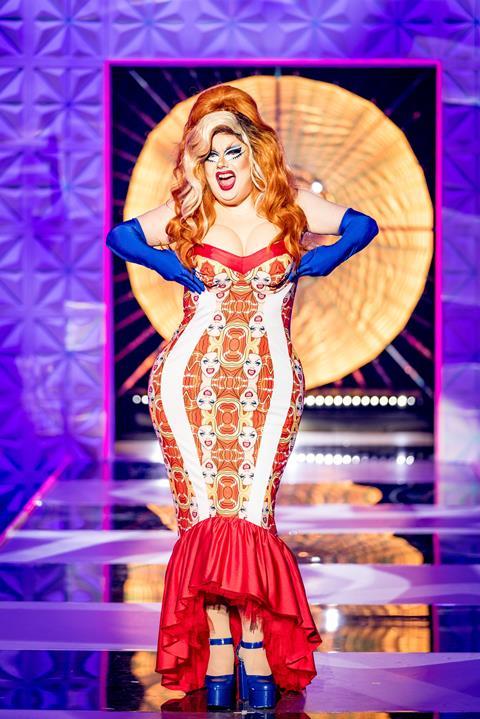 EH Particularly in the past five years, I've seen a massive change in terms of the idea that we should be able to represent ourselves; that we should have LGBTQ+ people on the crew, in the production office, on the screen.
If you told me when I was 15 that I would be doing this job, that I would be completely out and welcomed for my experiences, I would not have believed you. I wouldn't even have believed that gay people could get married. My generation in particular has seen such extraordinary change.
DB Something Patrick said struck a chord, about realising that it hadn't been done before. That's a really good question for producers: what hasn't been done before?
Sometimes the answer is incredibly shocking. With I Kissed A Boy, right from the development team to the commissioners, through to the press when we started making it – none of them quite believed that it hadn't been done before. It's 2023, right?
"The progress has been extraordinary. But there's still plenty that hasn't been done before, that should be"
David Brindley
When we took I Kissed A Boy to the BBC, it was a genuine no-brainer and was met that way, really receptively and brilliantly. The progress has been extraordinary. But there's still plenty of stuff that hasn't been done before, that should be made.
EH Years ago, Channel 4 had some LGBTQ+ programming and then there was Gaytime TV [a comedy and lifestyle magazine show that ran from 1992 to 1995] on the BBC, but there was a whole period when there was nothing, because people kept saying, "we don't want to do things about people being LGBTQ+, we don't want that to be the focus. What we want is people just to appear naturally by doing inclusive casting".
Of course, that never happened. There was a lack of commissioning around LGBTQ+ stories for a good while in the noughties. There was just nothing.
Do you think TV broadcasters and streamers now are more keen to create shows with LGBTQ+ themes for a mainstream audience?
EH Totally. The other thing is that there are now LGBTQ+ commissioners making the decisions. That's the difference. I think our heterosexual colleagues would also commission them now, but shows have to tap something in the commissioner for them to 'press go', be passionate about them and try to get them over the line.
When I was making films, I wanted as many people to watch them as possible. I'm commissioning now, so I want as many people to watch Storyville as possible. If I can get an LGBTQ+ storyline in a film, then I will. And the same goes for diversity generally. The big shift is that there are now 'out' folk in a position where they can say "yes, I want this", and then they sell it to the person above them.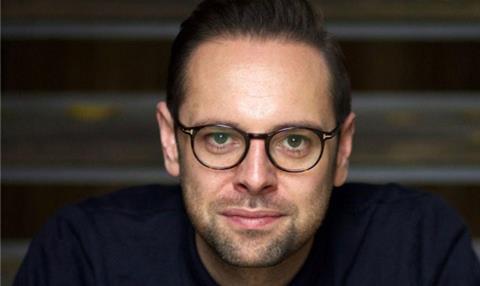 DB This content is no longer pigeonholed into having to operate 'over there' with a sense of 'that's great for the LGBTQ+ community, but no one else really needs to see it'.
Also, we're no longer seeing just one version or one type of experience represented. Queer people aren't all the same, so just seeing the diversity of stories feels like a major step forward. Continuing that is the next move, and that feels like an exciting challenge.
For example, the LGBTQ+ community is far better represented on screen now, but lesbians still aren't that well represented. And if they are, it's a very particular take.
EH It's usually long hair and very femme presenting. Gender non-conforming or butch lesbians are still bottom of the pile.
"We wanted everyone to watch and enjoy Heartstopper, but we prioritised the demographic we wanted to serve"
Patrick Walters
DB So will I be equally as excited about making I Kissed A Girl? You bet, because that keeps the conversation going and moves it forward in interesting and important ways.
PW We went to kids & family commissioners to get Heartstopper greenlit because we were cautious that big drama commissioners would have mandates for something bigger, splashier and noisier. We prioritised the demographic we wanted to serve with the show. Yes, we wanted everyone to watch it and enjoy it, but squarely we wanted it to serve that audience.
Where do you hope the industry heads next?
EH The sector is clearly thinking about diversity and it's exciting that more experiences are finally being reflected – we're all representative in the way that we cast. My big thing now is the people who are making the decisions, like the commissioning editors, need to be more representative as well.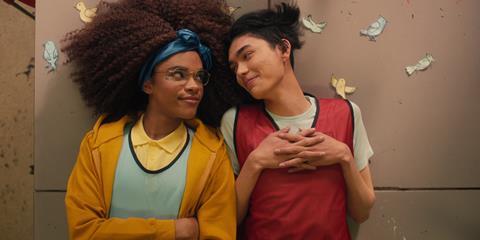 PW My fear is that there is still a kind of prevailing sense that queer content, in whatever form it comes, is small. The successes feel big in the marketplace, but when you trace them back to the shows, they're still small shows with small budgets that are overperforming.
The slight trap of having done these shows is that people tend to view it as 'job done'. But there's a real appetite for the industry to go bigger with it and do more.
DB From the start we said, hand in hand with the BBC, that we were making I Kissed A Boy for the LGBTQ+ community. First and foremost, they were the people that we wanted to like the show and get behind it. And that might mean that it's not getting 8 million people on a Sunday night like a drama might do.
But if it's authentic and real, and the community backs it and can see themselves in it, then a broader audience comes. If it's good and it's authentic, you can then build around it to make it a much bigger hit, in the same way that Drag Race UK has done.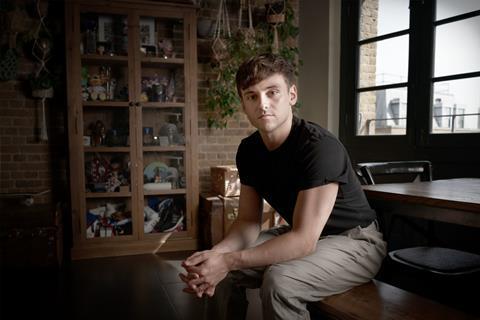 I know this is an obvious thing to say, but these are all positive representations. You've got Tom Daley in the centre of the Commonwealth Games ceremony, proudly waving the LGBTQ+ flag. You've got an incredible relationship at the centre of Heartstopper. You've got 10 boys in I Kissed A Boy falling in love. They all have positive endings. It's worth pointing out that representation of this community can also be happy.
EH My experience in commissioning at the BBC has been super positive. I've never been so happy at work or felt so accepted. But it's not just acceptance, it's validation in terms of "your opinion is important, we want to hear from you".
That's amazing, particularly around me being authentically me. As a gender non-conforming lesbian mother, I can be my authentic self. I don't have to hide or gloss over elements of myself any more – I'm just me. And that's an amazing thing.
Responses have been edited for length and clarity