Recognition for crusade against Channel 4 privatisation
Broadcast's campaign against the privatisation of Channel 4, Not 4 Sale, has won the Campaign of the Year at the 2023 PPA Awards.
The awards celebrate outstanding achievements, innovation and progress made across UK specialist media.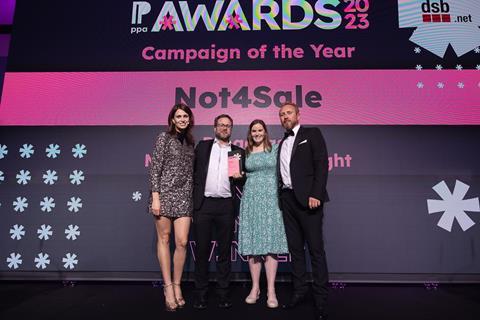 The judges praised Not 4 Sale as a campaign with "unrivalled dedication…that delivered impressive and impactful results leading to industry wide praise and a fantastic financial growth".
The gong was picked up last night by Broadcast editor-in-chief Chris Curtis and reporter Marian McHugh.
Broadcast spearheaded industry opposition to the government's plan to sell the PSB, which was revealed in July 2021 when the Department for Culture, Media and Sport launched a consultation into the financial future of the broadcaster over concerns of its long-term sustainability.
Then culture secretary Oliver Dowden said at the time that selling Channel 4 was the government's preferred option, with his successor Nadine Dorries following through in April 2022 by confirming the broadcaster would be sold.
The campaign was motivated by the fundamental lack of evidence to support the government's view that C4's publisher-broadcaster model was insufficient to ensure its financial future.
Broadcast highlighted the negative impact that a privately-owned C4 would have on the industry, such as giving it the ability to produce its own content and a potentially watered-down remit, which would be detrimental to both C4 viewers and the UK's PSB ecosystem.
Not 4 Sale gathered an impressive list of signatories from across the industry, featuring prominent figures from the indie sector, trade bodies and politicians and provided extensive coverage and analysis of the process.
The campaign ran for 18 months and saw off three culture secretaries: Dowden, Nadine Dorries and Michelle Donelan. It was Donelan who announced in January of this year that the plans to sell Channel 4 were being dropped in favour of setting out a package of reforms, which includes allowing it to create and own a portion of its own content.