Former Celtic striker will work on Scottish Premiership coverage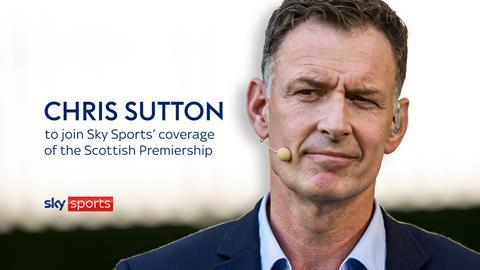 Former Celtic and Blackburn Rovers striker Chris Sutton has joined Sky Sports for its Scottish Premiership coverage.
Sutton will work alongside former Rangers star Kris Boyd as well as Eilidh Barbour and Ian Crocker, having previously appeared on BT Sport's football coverage. Sutton has left BT Sport after it rebranded to TNT Sports, which you can read more about here.
Sky Sports' coverage of the Premiership begins on Saturday 5 August with Celtic v Ross County which kicks off at 12:30 and is the first of up to 48 Premiership matches to be shown this coming season. The broadcaster extended its deal with the Scottish Premier Football League until 2029 last year, with up to 60 games-a-season from all of its competition being aired as well as the Scottish Women's Premier League being added for the first time. It also became the title sponsor of the SWPL League Cup.
Sutton said: "I can't wait to join the Sky Sports team ahead of an exciting new cinch Premiership season. I'm sure Kris and I will have some good discussions throughout."
Sky Sports' director of football, Gary Hughes, added: "Chris is as sharp on the mic as he was in front of goal for Celtic. We look forward to him joining our coverage of the cinch Premiership, bringing his incredible experience and forthright opinions to our coverage."